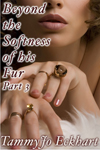 $3.99
ISBN: 9781613901137
54,330 words
The ebook edition is also available at: Amazon, Barnes & Noble, Smashwords, Kobo & AllRomanceEbooks.
Buy the paperback omnibus edition of the entire trilogy!
Beyond The Softness of His Fur Part Three: Private Revolutions is the third and final installment in TammyJo Eckhart's provocative erotic science fiction trilogy. A tale of genetics, sex, and love between owners and pets, Part Three concludes the exploration of Emily and Wynn's dystopian society. Corporations influence every aspect of life in their world, where animalistic-humanoid hybrids known as "morphs" are commonly kept as pets. Emily and Wynn's lives are now fraught with more danger than ever, coming from all sides. Although Emily first procured Wynn under orders of the company she works for, her own reticence to share him and Wynn's increasingly intelligent behavior have brought them under intense scrutiny and suspicion. The supposedly like-minded Dr. Vevern insists she wants to help save Wynn and Emily by extension, but it quickly becomes apparent that she is keeping secrets of her own. Natural resources are dwindling fast enough that chaos is beginning to erupt, with widespread fears that the conditions that began the brutal Water Wars might recur. And to top it all off, Emily must confront her assistant Lindsey with evidence of his betrayal with surprising results that Wynn is none too pleased with. With all of these outside factors threatening their own little world at home, Emily and Wynn must work harder than ever to preserve their love—and their very lives!
The story began in Beyond The Softness of his Fur: The Wonders of Modern Science and continued in Beyond The Softness of his Fur: Social Corruption.
Quotes
"I liked this world better when I actually thought I had some privacy."
" 'There used to be a debate, a century ago or so, about what really sets us apart from other animals. Finally we figured it out– communication. Not just with other humans– animals communicate with each other all the time– but the ability to communicate with ourselves, to interact with the world up here,' she explains as she touches her head with one finger, 'and then turn that internal dialogue into sounds or gestures that change the way others think. That changes the way we think. Humans create reality long before they affect the environment.' "
"I suck in my breath, then I take his hand. I've seen old movies and books where the man asked the woman to marry him after some long angst-filled journey where they had to fight against family and society to get to each other. What a bunch of romantic crap, hardly worthy of consideration. Yet we're about to embark on something possibly old-fashioned in that sense."
"…i also remember the private conversation about how i shouldn't use the big words like 'I', 'me', 'mine', and such things. Too dangerous until we know what these white coats want."
"i don't know what wedding really means, but i fear it means he will be moving in here and then Master will never play with me again. What can a morph pet do against a human pet? i think and think until my head hurts. Nothing. i'm not smart enough to figure this out, even if i know what a triangle is and what pink is and what line is and what texture is now."
"The big screen is very smart like Her computer and pad. They all smell the same, too, so sometimes i think they may be same thing as the TV, some machine thing. Machines things are also created by humans just like morphs. i think we are much better, though, because i'm cuddly, but i'm not as smart
i wonder if they will make machine pets, but that only makes me sad, so i turn my ears slightly to hear what the nice doctor is saying while i soak up as much petting as i can."
"…i can tell that she is lying to us from her smell. i've never been afraid of her; she's always been the nice one, but now i put a paw over my muzzle to keep from telling Master that we need to leave. Speaking out right now would be very, very bad. The songs tell us that humans are quick to anger, quick to punish, and slow to forget. Stupid, stupid, wynn! Make things so hard now for all."
"i spoke up 'cause the nice doctor stopped being nice for a moment. i spoke up 'cause it felt good to do so. i spoke 'cause there are feelings in my head, in my body, that i can't say to Master. i just don't know if the words i hear on the TV from humans would work, and the pets never say the things that feel right to me."
To read the rest, download the ebook today!
Domme Emily Potter and her brilliant submissive pet—white fox morph Wynn—bring their edgy, sexy love story to a thrilling conclusion, navigating the complex path of their own unique relationship in an increasingly dangerous world that does not understand them. Wynn's self-awareness threatens the status quo. and the fears of the established order pose a threat to Emily and Wynn's very lives.
Omnibus edition now in print!