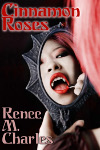 ebook $5.99
ISBN: 9781613900468
44,710 words
The ebook edition is also available at: Barnes & Noble, Smashwords, Kobo, Amazon, & AllRomanceEbooks.
**All royalties on this title will be donated to Catkins Animal Rescue in Park Falls, Wisconsin, in memory of the author, A.R. Morlan.**
From the vivid erotic imagination of Renée M. Charles come six seductive vampire tales of sex, love, and bloodlust. Within these pages, a female tattoo artist commissioned to do some intimate inking on three beautiful women is initiated into their secret world, an ordinary college girl tries to find out her mysterious roommate's secret and undergoes a startling and sexy transformation, a half-vampiric dhampir who hunts his own kind finds that one intended target is not at all what he expected, and more. Reaching outside of the standard cape-wearing, neck-biting vampire mythos to draw on folkloric traditions from around the world, from the long-nailed callicantzaros of Greece to the feathered aswang of the Philippines to the pontianak of Malaysia who brings doom to all who love her, the inventive stories of Cinnamon Roses provide a fresh take on the sensuous encounters between vampires and humans.
Contains the following stories: Cinnamon Roses, Drink To Me Only With Thine Eyes, The Twelve Nights of Callicantzaros, Opening the Veins of Jade, Initiation Into Club Sanguis, Mist Kisses
Renee M. Charles's fiction—both under her own name and her hard-core erotica-only Renee pen name—has either appeared in or is scheduled to appear in over 130 magazines and anthologies, including BEST AMERICAN EROTICA, THE YEAR'S BEST FANTASY & HORROR 1991, 1993 & 1994, F&SF, FULL SPECTRUM IV, THE ULTIMATE ZOMBIE, THE HOT BLOOD SERIES, LOVE IN VEIN, GRUE, 2 AM, TWILIGHT ZONE MAGAZINE and many, many others. Her non-fiction has appeared in OMNI, SPACE & TIME, WRITER'S DIGEST, CEMETERY DANCE, TWILIGHT ZONE and THE HORROR SHOW. Her erotic short stories have appeared previously in several Circlet anthologies. She also has two novels published by Bantam Books and reprinted by Borgo Press, THE AMULET and DARK JOURNEY. She lives in the Midwest, with a houseful (literally) of cats, some of whom have appeared in her novels and short fiction.
Hot excerpt under the cut…
Excerpted from the title story, Cinnamon Roses
I don't know if it's because people buy so heavily into the mythos of vampirism (y'know, the gal/guy-in-a-sweeping-cape-swooping-down-on-her/his-prey's lily-white, blue-veined throat batcrap), or if it's because they have this idea that we vampires just need a suck of blood every day or so to keep body and soul in one just slightly undead package, but being a twentieth-century working vampire is not just a matter of staking out a little patch of earth under an abandoned warehouse somewhere out in the hinterlands of the city—c'mon, get real.
Spending twelve or more hours a night biting and swooping and not much else is fucking boring. And it doesn't contribute squat towards the rent or utilities on my basement apartment in Greenwich Village, either.
Besides, just because a gal gets a little more than she bargained for during an admittedly dumb unsafest sex of all fling with some guy she met in some club she can't even remember the name of (oh, I made him wear a condom, but that didn't protect my neck…) it doesn't mean that she suddenly becomes the reincarnation of Dracula's Brides. I still needed to make a living, and since I'd been a barber/hairstylist before… well, you've got to admit, scissors and razors do have a way of occasionally drawing blood.
And from personal experience, I know that vampire bites feel a heck of a lot like the touch of a styptic pencil… down to the not-quite-needle-sharp tip pressing down on warm flesh.
Getting my boss to let me change my hours from mid-afternoon to evening to evening to pre-dawn wasn't difficult; the place where I work, the Heads-or-Tails, is one of those places that specializes in punk/SM/adventuresome types—full body waxes, razor and lather shaves, even a little extra stuff on the side (regular customers only—cop shops can't afford to send in decoys week after week) so it isn't unusual to see just about every type of person coming in for that special cut or shave at any hour of the night.
And at $100 bucks a pop and up per session, the Heads-or-Tails never closes. So when one of the stylists demands a right now change in working hours, the management is more than happy to oblige, especially when she (as in me) keeps drawing repeat nocturnal customers…
Another misconception about us vampires is that if we keep on doing what we do best—a.k.a. neck-biting and blood-sucking—eventually we'll infect the entire fucking world, because our victims will infect victims of their own, and so on until you're looking at one of those Andy Warhol's Dracula situations (the whiny vampire strapping his coffin on top of the touring car and motoring off in search of fresh "wurgin" blood). Get off it, do you think that one sip from a person is enough to make them go mirror invisible (which is another load of bullsheet—sorry, but the laws of physics don't work that way, though it makes for a nice special effect in the movies, I'll admit!) and start draining the family dog for a pre-bedtime snack? I had to spend a week with my nightclub Nosferatu before sunlight began to make my skin itch, but I can still put on my lipstick in the mirror, thank you!
So, a slip of the disposable razor here, or a nick with the scissors there, and it's good-bye hunger, but not necessarily hello fellow nightwalker. Not unless I'm interested in some continuing companionship over the course of a month or so. And even then, I make sure I know the potential victim well enough to be sure that he or she will be in a position to tap into a private food supply without attracting attention. C'mon, do you think that some of those E.R. nurses on the graveyard shift keep missing your veins by accident? Or those dental technicians who can't seem to clean your teeth without drawing blood?
But sometimes, no matter how much a gal exercises caution, and forethought, not to mention common-sense, there will come the day when that certain customer walks in—and every vein in my body, every blood-seeks-blood-filled throbbing vein, cries out to my brain, my lips, my cunt: Take this one… don't ask any questions, don't think about the night after… just take this one.
(Doesn't even matter if this one is a gal or a guy; skin touching skin is gratification enough, and fingers and tongues more than equal a prick… there's nerve endings enough to go around all over the body).
For me, the first signal of a customer being a taker is their smell. The smell of clean, healthy blood surging under their veins just a few millimeters under the unbroken flesh—for each of us, the name, the associative taste, we give to that good blood-odor differs. For me, it's cinnamon; cinnamon that's been freshly scraped from the stick, that raw, so sharp it tweaks your nostrils tang, so fresh and unseasoned the smell soon becomes a palatable taste even before the first drop caress my tongue.
(How else do you think vampires avoid HIV and AIDS? Once you've had a whiff of that moldy-grapes and stale-bread odor—naturally, this perception differs from vampire to vampire—you can smell a victim coming at you from two blocks away. Three if the wind is blowing past them.)
Oh, all non-infected normals smell somewhat like cinnamon to me now; as long as you're reasonably healthy, the cinnamon-tang is still there, but in some people… well, it's more like a cautious sprinkle of the spice over toast, or across the top of an unsealed apple pie. Maybe it's all the stuff people take; additives, drugs, you name it. But in a taker, that fragrance is a living part of them, like an extra finger or breast. Richer and more lingering
than the smell of sex, more piquant than ejaculation seeping out of your crevices.
But the blood isn't the whole reason for that desire to own, to make a normal into a new-blood kin; even though it is the most tangible reason; for me (at least) there has to be a certain look in their eyes, a vulnerability that goes deeper than mere submission. The look which says What I am now is not all I could be. Doesn't matter if the look comes from eyes in a straight or gay or female or male body, either. Like I said before, there's nerve ends a plenty all over the body. Age isn't a biggie either, although most of the clientele of the H. or T. is youngish, adventuresome.
Color, background, whatever—none of these things matter either. Maybe because we vampires live so much in ourselves, and are ruled by what runs through our bodies and not over our bodies, that which is within others speaks to us so eloquently, so desperately.
Even if they themselves do not realize that inner need….
To read the rest, download the ebook today!

All royalties will be donated to Catkins Animal Rescue in Park Falls, Wisconsin, in memory of Renee M. Charles aka A.R. Morlan.
All of Renee M. Charles's erotic vampire stories collected into one volume! Lush and varied, the book contains the following stories: Cinnamon Roses, Drink To Me Only With Thine Eyes, The Twelve Nights of Callicantzaros, Opening the Veins of Jade, Initiation Into Club Sanguis, Mist Kisses.