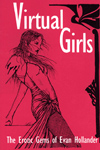 ebook $4.99
ISBN 9781613900529
16,480 words
The ebook edition is also available at: Amazon, Barnes & Noble, Smashwords, Kobo & AllRomanceEbooks.
"Evan Hollander pokes a hole in the wall. On the other side are regular people getting it on in irregular ways. Virtual Girls is a provocative peep show."
– Amarantha Knight, author of The Darker Passions
"Evan Hollander gives you pulp sex with an SF slant. A virtual roll in the hay with Virtual Girls is T&A with G-force!"
– Kyle Stone, author of The Citadel
This Circlet title from 1995 is now available in digital format for the first time. Virtual Girls collects the very best of Evan Hollander's unbridled sexually fantastic fiction. By combining erotic writing with science fiction, Hollander creates unlimited possibilities for erotic fulfillment. His characters use time travel, zero gravity, voodoo, and virtual reality to achieve states of sexual bliss, for themselves and for the reader.
This collection contains the stories "Artistic License", "Virtual Girl", "Night Vision", "Sex In Time", and "The Zero Gee Spot".
Evan Hollander is a prolific Canadian writer who has published dozens of erotic short stories in a variety of mass-market men's magazines and anthologies. His work has appeared in such publications as Gent, 40+, and Sugah, as well as in the Circlet Press anthologies TechnoSex: Cyber Age Erotica, Of Princes and Beauties, and Selling Venus. Virtual Girls is his first collection.
Hot excerpt under the cut…
Excerpted from Virtual Girl
Stan Karl stepped through the front door of the Virtual Girls Salon at exactly 5:30 p.m., just as he'd done every Friday afternoon for the last five months.
"Hi Stan," said Thal, the lithe, dark-skinned beauty who manned the salon's front desk. She was dressed in a white spandex jumpsuit that left little to the imagination
"Hello."
"Who would you like to try ?" She gave him a sly smile, knowing full well that he was only interested in one of the Virtual Girls' programs.
Every Friday after work Stan asked for program 0004, Tamara. while plenty of Virtual Girls customers often repeated their favorite programs, this would be Stan's seventeenth straight time through Tamara. devotion to the one program was even more curious considering Tamara 't all that popular with the salon's other customers. Most of the clientele opted for oral sex programs like Candy Kisses Lolly Pop, big-tit programs like Big Bubbles Double Bubbles. Tamara just a basic full-figured, mature woman program without a real gimmick.
"You know, Stan," said Thal. "Variety is the spice of life and we've got over a thousand programs to choose from… including one called Thal."
"Thanks, but I think I'll stick with Tamara."
"All right," said Thal, running Stan's debit card through the computer. "But don't mind me asking, what's so about that program?"
Stan stood there thinking about it, then said, "It's just that I've come to know her… I mean it well. You know… almost like a real lover. I know what it likes, and it knows what I like. It's like we're a perfect match."
Thal shrugged her shoulders and handed him a key. "Salon seven. Enjoy."
"Oh I will," said Stan. "I always do."
Stan walked down the hall to the green door with a stylish number seven painted on it. He slid in the key, unlocked the door and stepped inside.
After getting undressed and hanging his clothes on the back of the door, he left the dressing room and entered the VR salon. A comfortable chair sat in the middle of the room, a skull-cap on the table next to it. wires hung from the arms of the chair. When he sat back in the chair it shaped itself to fit the contours of his body. After making himself comfortable, he adhered the various touchpads to his skin, taking great care to make sure they were properly positioned. Finally, he slipped the stim-sheath over his penis and strapped the skull-cap to . When both were snug, he pulled down the skull-cap's visor.
"Begin program," he said … And he was suddenly lying back on a king-sized bed in a bedroom decorated in shades of red and blue. There was a woman on the bed next to him.
Tamara.
She was an older woman, but still quite attractive with a devilish smile, flowing red hair, luscious thighs, and a more than ample chest.
As always, she was wearing a black lace teddy, black thigh-high stockings and a pair of black heels. She began the program by lying down next to him on the bed, whispering to him while she caressed her body with long, gentle strokes of her fingers.
"I've been waiting for you all day," she said, running an index finger into the deep chasm between her breasts. "Waiting all day for you to suck on my tits."
She pulled aside the cup covering her right breast and the fleshy orb fell free, the dark nub of her nipple standing stiff and erect in its center.
"Don't you want to suck on my tits?"
Stan answered by twisting his body around and taking the nipple between his lips. He licked it gently at first, then sucked it deep into his mouth. As usual, her breasts felt big and soft against his mouth.
"Oh, that feels so good," breathed Tamara. "Worth waiting for."
Stan sucked on Tamara's nipples for several minutes while she stroked her clit through the thin fabric of her teddy. "You know what else I've been waiting for you to do?"
Stan shook his head. "Uh-uh."
"I've been waiting for you to… lick my cunt."
No matter how many times he heard Tamara say that it always turned him on. "I've been thinking about your cunt all day too," replied Stan.
"Well, then," said Tamara. "Let's get it your mind and onto your tongue where it belongs." She rose up, undid the teddy's snaps and lowered her exposed pussy onto Stan's waiting mouth. First he kissed and sucked on her vaginal lips, then teased her swollen clit with the tip of his tongue. With that, she began to grind her cunt harder against his mouth. "Fuck me with your tongue," she cried.
Stan complied with her wishes, extending his tongue and sliding it as far up her hole as he could. She shuddered against his touch as nectar-like juices began to flow down around his tongue and into his mouth. Tamara let out little screams of pleasure as she readied herself for orgasm… then stopped herself just on the verge of climax as the built-in default of the program automatically denied her an orgasm until the user had been completely satisfied.
"Do you have something for me suck on?" she asked, climbing off Stan and nestling down between his legs.
Stan didn't answer, knowing the program would continue just as well without a response.
And then, like a woman who'd been starved of cock for years, Tamara began licking and sucking his pole. This was the part Stan enjoyed most, the part that kept him coming back time after time.
She began by sucking on just the tip of his cock, then took all of it deep down her throat. She licked it from end to end, then kissed every throbbing inch. The pattern continued for well over twenty minutes, stopping when the program sensed Stan was ready to come.
"Do you want to fuck me?" she asked, and kissed the tip of his cock for the final time.
"You know I do."
"Oh, lover." She climbed on top of him and lowered herself onto his cock.
Stan knew he didn't have to move, that Tamara would do all the work if wanted, but tonight had been especially good and he was fucking her harder than he'd ever done before. Each time Tamara lowered her body down onto his, he thrust up to meet her, marveling at the exquisite grip and control of her muscles as they brought him closer and closer to climax.
Then, sensing he was about to come, the program sent Tamara into orgasm. She arched her back, grabbed at her lolling breasts and clamped down tight on his . "Fuck me, lover!" she cried as her body was wracked by spasms. "Fuck me hard!"
Stan thrust again and again…
"Wild me!" she screamed.
…until he and Tamara came together in a perfectly timed simultaneous orgasm.
To read the rest, download the ebook today!