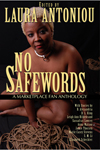 ebook $7.99
ISBN 9781613900611
Paperback $12.95
ISBN 9781613900727
62,300 words; 192 pages
The ebook edition is also available at: Amazon, Barnes & Noble, Smashwords, Kobo & AllRomanceEbooks.
About the Book:
Ten stories of BDSM, submission, and service set in the secret world of Laura Antoniou's Marketplace. The Marketplace has fans all over the world, and Antoniou invited them to come play in her fictional sandbox/dungeon. Numbered among those fans happen to be some of the top erotica and alternative sexuality writers in the world, including D.L. King, Sassafras Lowrey, and Elizabeth Schechter.
The full slate of writers contributing to NO SAFEWORDS runs the gamut of award-winning authors to bright-eyed new voices, as creator Laura Antoniou explains in her introduction: "As the saying goes, 'blessed are those who embellish the tale.' So here is the Marketplace, as seen through other eyes. There are some stories that show the world exactly as I created it, and some that push my boundaries a tad. There is romance and strife, glee and despair. There is hot sex, of course, but there's also humor and melodrama. Just the way I like it.
There were some surprises for me! I was delighted to find several female dominant/male submissive stories, especially since my examples of those relationships tend to be supporting, rather than main characters. I was also pleased by the writers who weren't afraid to go a little dark; a collection of stories all about slaves misbehaving in mildly inconvenient ways and getting fantastically, erotically punished would have been tiresome.
So whether you want a rollicking Victorian flavored tale of adventure and romance or a modern, sexy welcome to a new home for a familiar character, you will find flavors here to tempt or satisfy your tastes. Return for more time travel to a world where the language we so casually use to describe our tastes doesn't even exist, but where longing for a ritualized order and discipline and a sense of belonging transcends words, and gets expressed in the rich metaphor—and reality—of a garden.
Then swerve away from romance to feel the terror of a slave newly sold to an owner who represents their worst nightmare, whether because of demographics or the enormous challenge of a language barrier.
Here, you can get into the reflection of a trainer's long career or the grief and anguish of a new owner confronted with an inherited house full of property she didn't choose. Or, watch how even the jaded, experienced ways of the Marketplace aware people become awkward in that most awkward of adult challenges—a marriage proposal.
Get a glimpse into the rarefied and formal household of an owner/spotter, and then take a detour to the desolate history of a young genderqueer punk fresh from the streets, confronted with the most iconic of Marketplace characters.
All of this—a synthesis of my imagination and theirs, fed by culture, fantasy, fairy tales and fears. All fiction is, in a way, fan fiction. I am sorry it took so long for me to see this and to open myself to the interesting sensations—you might call it edge-play—in giving people access to my favorite victims. But better late than never!"
Full table of contents:
A Thousand Things Before Breakfast by Marie Casey Stevens
The First by D. Alexandria
If You Try Sometime by D. L. King
Her Owner's Voice by Leigh Ann Hildebrand
Hiding in Plain Sex by Sassafras Lowrey
Delirious Moonlight, 1916: Mr. Sloan's Boy by Anna Watson
Pearls in the Deep Blue Sea by Jamie Thorsen
Coals for the New Castle by Marie Casey Stevens
Getting Real by S.M. Li
O, Promise Me! by Elizabeth Schechter
Look under the cut for a hot excerpt!
from "Pearls in the Deep Blue Sea" by Jamie Thorsen
Marie fought back a yawn and leaned against the wall, watching the ebb and flow of movement in the crowded dungeon. She scanned the crowd and resisted the urge to check her watch. Jack would be here sooner or later to relieve her as dungeon monitor whenever Quentin, her owner, decided he needed her to be somewhere else.
It had been her idea to throw a monthly play party for the local BDSM community at Quentin's fifteen-acre estate just outside of the city. He had been pleased with the success of her idea. She knew that he viewed most of these people as vulgar dilettantes, and she couldn't argue, but the events served their purpose of keeping the household connected to the local community.
The door to the outside terrace opened; her friend and protégé, Kitten, stepped through it and scowled at the crowded dungeon. Her red hair cascaded down to frame a porcelain face that was spattered with freckles; her tiny stature made her appear fifteen instead of twenty-two. She tried to look fierce; knee-high spiked boots and torn fishnets stretched up underneath her black microskirt, a Tank Girl graphic was emblazoned across her stretchy top, and an army surplus medic bag hung from her shoulder as a purse. Like her namesake, though, her claws weren't enough to keep people from calling her adorable.
Marie, curious as to why Kitten looked so upset, followed a few feet behind the girl as she navigated the dungeon, heading toward the back corner. Kitten's fiancé Danny stood in front of a girl suspended in a web of saran wrap, holding a Hitachi vibrator to her clit. Another woman carefully sliced a square out of the saran wrap over one breast. The nipple clamps hanging from her belt telegraphed her plans.
From ten feet away, Marie couldn't make out the conversation. They exchanged some words, Danny pointed at his backpack, and Kitten retrieved a set of keys from it. She stepped closer to Danny and tilted her head up; without flipping off the vibrator, he leaned down, brushed his lips against hers, and returned his focus to the suspended girl. Kitten shook her head, turned her back, and began pushing her way back through the crowd, headed for the door of the dungeon.
Marie caught up to Kitten and reached out, grabbing her shoulder. "You okay, girl?"
Kitten embraced Marie tightly. It took her half a minute to let go. "Can we talk?" she asked, hope in her voice.
"Sure, sweetie. I'm DM right now, so you'll need to go find my owner and see if anyone can take over for me."
"I can do that. I picked up a bottle of wine from the gas station on the way here. I'm going to grab it and smoke a cigarette first. Okay?"
"That's fine," Marie said.
A high-pitched shriek emanated from the back corner; Kitten glanced over her shoulder. "That's what nipple clamps feel like, bitch," she muttered and walked away.
Marie frowned at the venom in Kitten's words. She knew why the girl was acting out. She knew that others viewed Kitten as an immature and often petulant bottom, but she saw the potential in her for so much more. Marie looked at Kitten and saw the elements that, with training, could be molded into a content and obedient slave.
* * * *
They ended up in the third story alcove, used as a closet for fetishwear. Marie and Kitten sat on the floor underneath a shelf lined with corsets and hoods, the bottle of cheap moscato between them.
Kitten took a long drink straight from the bottle, ignoring the wineglass Marie had brought with her. "I'm just frustrated, that's all," she said.
"That sounded dangerously close to whiny. You're engaged to Danny. If he's staying within the boundaries you've agreed upon, then you need to either renegotiate those boundaries or accept things the way that they are. Passive aggressive bitching won't solve anything."
"He's good to me," Kitten said after a pause. "I just want something more. When we play, it's great, but when playtime is over, the d/s just seems to fade away, and when we go to play parties, he always gets distracted by someone new and shiny."
"From my understanding of your rules, you can play with others too," Marie said.
"With his permission, but it doesn't feel right. If he gave me to someone else, that'd be one thing, because it's… I don't know…"
"An extension of him?"
"Yes! Exactly. Just playing with someone else, it's nice but it's like masturbation, fun but empty. I want to give myself to the person that owns me or the people they choose," Kitten drank from the bottle. "Are you sure you don't want some wine?"
"My master wouldn't like it." They sat in companionable silence for a minute. "Are you in love with him?"
Kitten's face betrayed the flickering thoughts behind her eyes. She was a dreamer, but in a serious conversation, she would turn thoughts around like a Rubik's cube in her brain. It reminded Marie of herself.
"Damn," Kitten gulped down more wine. "Three months ago, when he proposed to me, there wasn't a doubt in my mind. Now… God, I don't know. He swept me off my feet, my first real dom. When he asked me to marry him, of course I said yes. I have everything I wanted. I have a man who takes care of me, loves me, and is as kinky as I am. So why do I freak out about spending the rest of my life with him?"
Kitten shifted into the center of the beam of sunlight from the alcove window; Marie smiled, thinking how much the girl resembled her nickname. "I look at how devoted you and Jack and Gary are to Quentin, how content you are in your service, how proud, how… secure. It's like a whole different level from the rest of us. Danny talks a big game, but when we're not scening, he's just my fiancé. I don't feel owned anymore. I wonder if I ever truly did."
Marie framed her next statement carefully, unwilling to lie but unable to tell the whole truth. "Sweetie, we've all been doing this for years, apart and together. We've learned by trial and error how to make this work."
"It's not just that. It's…I try to anticipate his needs. I try to do the little things. Try to get him to notice my service…no, that's not right. He doesn't have to notice, but…I'm fucking this all up," she said in anguish. "I find myself acting out, breaking the rules just so he'll beat me and I can feel owned again. It's wrong but I just want to know I'm his and sometimes he doesn't even notice and even when he does and beats me, it never lasts!"
"Kitten, at heart, you're a slave." Marie reached out and caressed the younger girl's face. "You have the drive to service. You want structure, someone to provide the framework you need to make the world make sense."
"All I've wanted since I was a little girl was someone to belong to," Kitten said after a pause. "When I first discovered Kinkynet, it was an epiphany. I wasn't some sort of anti-feminist freak. I met Sir and it was like a fairy tale. I cried when he collared me. I felt so proud to be his, like there was nothing I couldn't do.
"But it's not enough. I want to really be owned, like you are. I don't want this to end at the bedroom door. I don't want this to be a game. I mean, I'm smart enough to know that at some level that all of this is a game, but I don't want it to be. I want to be subject to the bidding of my owner, like that stupid Anais Nin quote that's on half the profiles on Kinkynet."
"But do you want someone to really own you or a lover who plays the role?"
"Well," Kitten said. "Wow. That's… I hadn't thought of it like that before."
"You have the fairy tale. You say it's not enough. If you want to be happy, you need to figure out what you want." Marie watched the younger woman, wondering how much of the truth she could reveal. This girl was so much like she had once been, trying to find out where she belonged in the world. Marie knew the answer to Kitten's question, but her fingers searched out her own collar; it reminded her that she was only allowed to say so much. "What if you could become a slave, put up on the auction block, sold to the highest bidder and truly owned?"
 To read the rest, download the ebook today!
Ten stories of BDSM, submission, and service set in the secret world of Laura Antoniou's Marketplace. The Marketplace has fans all over the world, and Antoniou invited them to come play in her fictional sandbox/dungeon. Numbered among those fans happen to be some of the top erotica and alternative sexuality writers in the world, including D.L. King, Sassafras Lowrey, and Elizabeth Schechter.
Also available in paperback!