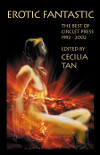 ebook $9.99
ISBN 9781613900284
paperback $19.95
ISBN 978-1885865441
126,000 words; 344 pp
The ebook edition is also available at: Amazon, Barnes & Noble, Smashwords, Kobo & AllRomanceEbooks.
In the first ten years of its existence, Circlet Press published over thirty anthologies and several single-author works, all the time pushing at the boundaries of sf/f and Erotica and fusing the two together. This is a collection of the very best and brightest of this unique publisher and unique genre, with twenty-five stories picked from the hundreds Circlet has put into print.
"The writing is superb and the use of SF tropes is skilled. Many of our SF writers would do well to emulate these authors for they have renewed the future. And it is brave, bold, and sexy indeed."–SFRAReview
"If you happen to be turned on by fabulous, fluent, and imaginative writing, mixed with inventive and significant sexual encounters and a lively sense of humor, I highly recommend the short story anthologies from Boston-based Circlet Press."–Paramour Magazine
"These gentle books hold your attention, are highly spiritual, intelligently written and oh so smooth to read!"–EIDOS
"The tropes of fantasy and science fiction can inspire erotica that stretches the imagination of both writer and reader. No one need argue that point anymore: [Circlet Press] proves it."–Lambda Book Report
Includes:
Milagro by Francesca Lia Block
Wilderland by Reina Delacroix
State by M. Christian
The Bride's Story by Lynda J. Williams
Cyberfruit Swamp by Raven Kaldera
Like A Reflection In a Mirror Without Glass by Renee M. Charles
Temporary Insanity by Thomas S. Roche
Shayna Maidel by Laura Antoniou
For The Mortals Among Us by Robert Knippenberg
Someday My Prince Will Come by Evan Hollander
Gone To The Spider Woman by Beverly Heinze
Anthem by Lee Crittenden
Pipe Dreams by Shariann Lewitt
The Jail of His Mind by Eric DelCarlo
The Specialist by Lauren P. Burka
Burning Bridges by Lawrence Schimel
Autoerotic by William Marden
Liquid Kitten by Jamie Joy Gatto
Heir Apparent by Gary Bowen
The Limo by Reed Manning
Consumption by Mason Powell
Soul of Light by Catherine Asaro