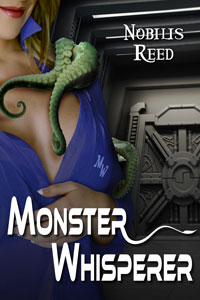 News comes to us from Nobilis Reed! His novel MONSTER WHISPERER, which was originally run an audio serial on the Nobilis Erotica podcast and which Circlet published in ebook and paperback form in 2017, is now available as a standalone audiobook! Download the audiobook now from Audible.com.
Nobilis adds, "And if [you] don't have an Audible account, [you] can get the audiobook for free during a thirty day free trial: https://www.audible.com/t2/title?asin=B07FKWWWB1"
The ebook of course can be ordered right here on Circlet.com or purchase paperback or Kindle version on Amazon.
When tentacle monsters go bad, there is one woman who is their friend: Dale Clearwater. No monster is too much for her to handle. She rehabilitates tentacle monsters. She trains the people who love them. She is the Monster Whisperer. An erotic science fiction novel from the mastermind of the Nobilis Erotica podcast. Also available in paperback from you favorite bookseller!