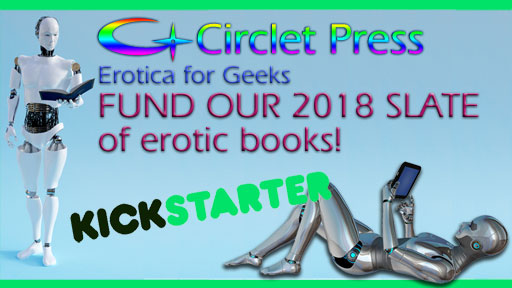 CLICK HERE TO JOIN THE KICKSTARTER
Circlet Press has been around for 25 years and to make sure we're around in the future, we've set the stretch goals in our Kickstarter to allow us to keep up our publishing mission in the year 2018! Yesterday we passed the $5,000 mark, so the "best of" anthology that was goal #1 will come to be! But goal #2 is actually multiple goals.
For every $500 over that initial $5 we raise, we can publish a book. In the Kickstarter campaign I listed close to a full year's worth of books and said if we reach $10,000, they all get funded. But an opportunity for another book came up last week and it was too good to pass up. It's larger than our usual books, with 18 stories, so it'll need a $1,000 budget, but I think you'll agree it's worth going for:
LEATHER EVER AFTER, edited by Sassafras Lowrey!
This collection of BDSM & kink fairy tales includes a foreword by Laura Antoniou and a fairly star-studded lineup of BDSM and kink authors, including DL King, Raven Kaldera, Lee Harrington, Mollena Williams, and many more. And I am so pleased to finally be working with Sassafras Lowrey, who I've known through queer publishing circles for a long time. Sassafras is the 2013 winner of the Lambda Literary Emerging Writer Award. Hir books—Lost Boi, A Little Queermas Carol, Roving Pack, and Kicked Out—have been honored by organizations ranging from the National Leather Association to the American Library Association. Sounds right up our alley, no? 

But it's going to take moolah to publish the book right. Leather Ever After originally appeared from another publisher who did a terrible job with it, with typos on the front cover and other mistakes all through it. I can't wait to start looking for the right cover art!
To make sure we've got the budget for Leather Ever After I'm upping the ultimate goal for the Kickstarter to $11,000. We've got 20 days left to go and I really believe we can get there!
I'll post more details about the other titles over the next two weeks so you can all keep up with how we're doing. Here are the other titles also being funded:
Hard as Stone: Dwarven Erotica, edited by Julie Cox
Why should elves have all the fun? This anthology of hot, bearded dwarves includes various expressions of dwarven sexual orientations and genders. The stories have all been acquired, but we could use a better budget for cover art so we can find something truly fitting (and sexy).
This World Between by Monique Poirier
Monique is a frequent contributor to Circlet's anthologies. Her lyrical, deeply felt stories never fail to arouse and engage. This World Between would collect Monique's erotic sf/f stories into their own book.
Tales from the Arena by Elizabeth Schechter
Another Circlet favorite is Elizabeth Schechter, the multi-award winning author of House of Sable Locks, Heart's Master, and Princes of Air. We've got the opportunity to publish more two books from her, both set on a world where genetically engineered supersoldiers are provided with sexual submissives.
Like a Whisper in Your Ear, edited by Nobilis Reed
For the past five years we have been sponsoring the Nobilis Erotica podcast, a weekly erotic science fiction podcast that once a month features a Circlet-published story. We've been working on collecting many of those stories into a book of their own, in audio and ebook! Help us make sure it goes into paperback, too.
A Beastly Affair, edited by J. Blackmore
From the editor who brought you erotic anthologies on such topics as Alice in Wonderland, Jules Verne, and Sherlock Holmes, comes an anthology of retellings of Beauty and the Beast. Fairytales remain a perennial favorite among erotica readers and I can't wait to see what the authors have made of this one.
Junk Magic by Julie Cox
Small towns, big hearts, and scorching sex populate Julie Cox's stories. Her serial-turned-novel Capricious was a finalist in the Bisexual Book Awards. Junk Magic would collect together all her erotic short stories in one place.
Playing Dirty, edited by Cecilia Tan and Cosmin Alexander
An erotic anthology with the theme of games and gamers. This is one that languished in the middle of the editorial process. Help us get it finished and released into the world!
No Safewords 2, edited by Laura Antoniou
Circlet's most popular books are Laura Antoniou's "Marketplace" series, about a modern slave-owning secret society right under our noses. In No Safewords 2, Antoniou collects stories by other authors set in the world of the Marketplace.
Walker to the Sun by H.B. Kurtzwilde
Lambda Literary Award finalist H.B. Kurtzwilde has published a few books with Circlet already, including Chocolatiers of the High Winds and Sea Turtle Inn. Walker to the Sun is his magnum opus, a planned trilogy. All three parts are in our hands already, we just need the budget to do it right.
The Eidolon Initiative by Vinnie Tesla
We're looking forward to publishing our very first graphic novel with Vinnie Tesla's The Eidolon Initiative! First serialized at eroticmadscience.com, it mashes up Pokemon Go, Chuck Tingle, and Max Headroom into a kinky, over-the-top cyberpunk romp about hackers, AI, and a murderous video game.
Like a Spell: Omnibus Edition edited by Jennifer Levine
By 2018 we will have published two of the planned four volumes on erotic magic so far, one for each element of air, fire, water, and earth. Help us collect them all into one omnibus paperback of amazing sexmagic erotica.
CLICK HERE TO JOIN THE KICKSTARTER