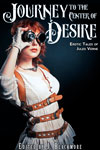 $3.99 ebook
ISBN: 978-1-61390-184-7

Erotic stories in the worlds of Jules Verne, gathered together by the editor who also brought you books of erotic Sherlock Holmes, H.P. Lovecraft, and several volumes of steampunk erotica…!
Verne's books feature daring, intelligent men facing danger and overcoming obstacles in the name of scientific discovery. Journey to the Center of Desire tells the stories of people who love the adventurers: the ones left behind, or carried helplessly along, or are otherwise affected by these harebrained schemes.
In "Lunacy" by Jean Roberta, based on From the Earth to the Moon, two brave and daring women struggling in a man's world come up with a brilliant–and ridiculous–idea to win their freedom and future life together. Luckily for them, great men can still be made into fools by beautiful women with a plan. In Annabeth Leong's "Journey to the Disappearing Sea," Axel, from Journey to the Center of the Earth, is forced to realize that his precious porcelain doll of a fiancée has her own hopes and dreams and strengths and they will not be hidden any more. In Corey Reid's "The Unresolved Wager," (based on Around the World in Eighty Days) Phileas Fogg's friends Aouda and Passepartout make a bet to see who can teach the man they both love that living well requires paying attention to your friends… and having lots of orgasms. In "Poulp Friction" by Evadare Volney, we learn how deep the friendship between M. Aronnax and his loyal Conseil (of Twenty Thousand Leagues Under the Sea) actually is, and that Captain Nemo's rebellious nature and technological acumen extended to much more personal matters than we were led to believe.
Includes:
"Lunacy" by Jean Roberta
"Journey to the Disappearing Sea" by Annabeth Leong
"The Unresolved Wager" by Corey Reid
"Poulp Friction" by Evadare Volney