Editor's Note: This story mentions suicide. 
"Room with a Boo"
by J. T. Seate
The well-appointed room looked similar to any other, but it was their room. The cool air from the open window that looked upon the picturesque Adirondacks washed over Helen. It was just as she remembered. She breathed deeply, remembering the words William had spoken ten years earlier.
"If I die, will you marry me?"
"Why would I marry you if you're dead?" she'd answered.
"Because you'll find that you can't live without me."
But she had lived without him, unfulfilled perhaps, but she'd gone on. She undressed and took a steamy shower. Now she was as fresh as the night they had come to the inn and she had given herself to him. She moved the chocolates from the pillow, turned down the covers, and climbed into bed naked.
Helen's memories drifted until nightfall when she sensed the time was right. She kicked off the sheet and blankets and spread her legs for William.
He came to her again, just as he'd done each time she'd returned.
"Will you join me this time, finally?" he asked.
"Perhaps," she breathed, feeling his chest lie upon hers and his warm breath against her cheek as he entered her. Long ago, Helen stopped asking why death had unexpectedly taken William from her, never allowing herself to believe it was on account of his distraction or carelessness due to their little tiff.
She raised her legs higher and began to breathe harder. The smell of his cologne filled her nostrils. William's sweet seduction always made her come—something no other man had accomplished. All of them made her feel like nothing more than a shadow for their lust.
The curtains were caught by a breeze and fluttered out an open window like spirits departing. She had to decide quickly. A glass of water and a vial of pills were in reach on the nightstand, just in case.
–
J. T. Seate's storytelling spans the gulf from Horror Novel Review's Best Short Fiction Award to Chicken Soup for the Soul. His tales and essays may incorporate hardcore realism, fantasy, or humor featuring the most quirky of characters. His longer works can be found online at Amazon and B&N.  www.troyseateauthor.webs.com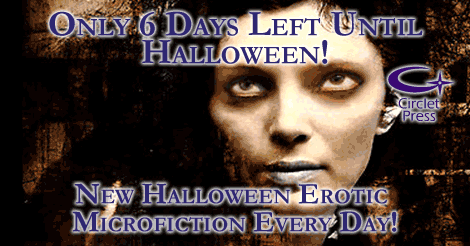 Happy Halloween from Circlet Press and we hope you've been enjoying our Halloween erotic microfictions series! Here's a treat for all you readers: 10% off any online order here at Circlet.com now through October 31st. Use the coupon code HALLOWME at checkout.