After a lengthy delay, the Circlet Backlist Read Along project is back in action! The selection chosen from the previous poll is an anthology of erotic horror. Click on to see what backlist book we'll be featuring in May!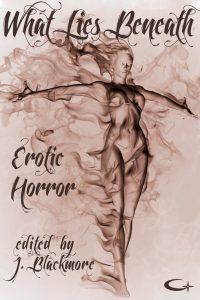 What Lies Beneath is Circlet Press's first horror anthology, and some of Circlet's finest, most twisted writers have contributed. Each story has its darkness, discomfort, and terror, but there is also rapture, need, and triumph. Within, you'll encounters love-starved demons, old Russian ghosts, terrifying possessions, wicked-sexy faeries, promiscuous ghosts, and lovers that just refuse to die. Being frightened has never been so… arousing.
You can join us in the read along by adding or following us on one or all of these social media platforms: Goodreads Group – Facebook Group – Twitter: #CBRA – Tumblr: #CBRA
At the end of the month, we'll collect the highlights from conversations across our feeds in a round up post here at Circlet.com!
You can purchase his ebook at Circlet – Amazon Kindle – Barnes & Noble Nook – Smashwords – AllRomanceEbooks – Kobo