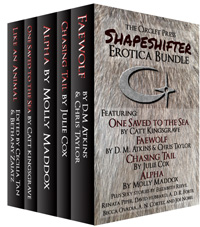 $5.99 (!)
ISBN: 9781613901601
226,830 words (!!!)
This bundle is also available at  Amazon, Smashwords, Kobo, and Barnes & Noble.
Five books for the price of one! Available for a limited time, Circlet Press's hottest shapeshifter stories all in one bundle. A lesbian selkie in the Orkney Islands. A gay Santa Cruz student in love with a werewolf. An Arkansas town of shapeshifters. A human and a wolfman fighting for survival in the ruins of NYC. And more. The wild heart of lust and longing all in one package!
Follow the links for hot excerpts from all four novels:
ONE SAVED TO THE SEA by Catt Kingsgrave:
From the lighthouse where she was raised, Mairead has watched the selkie girls secretly since she was small. She longs to leave the home that has never really been hers and join them. She could never have guessed that a limping selkie girl has been watching her too, nor what wildness the shapeshifter would draw her into.
"This book gripped me and wouldn't let me go until I finished it. There's deep, subtle poetry in it, and a romance that is satisfying but not easy. " –Annabeth Leong
FAEWOLF by D. M. Atkins and Chris Taylor
Faewolves, like werewolves, can walk among men. What happens when Kiya White Cloud, a young gay college student in Santa Cruz, wants one of these men enough to risk his heart–and his life?
"The romance scenes in this book, and let me say there is a lot of sexin' going on, are written really well – they are verra steamy." –smexybooks.com
CHASING TAIL by Julie Cox
When the shapeshifter community of northern Arkansas is rocked by a string of disappearances, individuals aren't the only ones in danger. The entire community's way of life is in jeopardy, but this new threat brings some shifters together in ways they never expected.
"A sweet, lovely, and hot set of stories, with a compelling setting, and a distinctive regional voice." –Vinnie Tesla
ALPHA by Molly Maddox
Janey Hyde is fighting to keep her people alive in a Manhattan ravaged by zombies. Seamus, the leader of a werewolf pack also on the island is doing the same. Will an alliance between them be the salvation of their tribes? Or is the intense attraction they feel for each other going to be their downfall?
"I loved all the action scenes…a great heroine…the sex scenes were hot." –lovesromances.blogspot.com
Plus LIKE AN ANIMAL, featuring werewolf stories by Elizabeth Reeve, Renata Piper, Joe Nobel, A. N. Cortez, A. D. R. Forte, Becca Ovadia, and David Hubbard.
This bundle will only be available until Summer. Indulge your inner e-book reading beast, and grab it now!