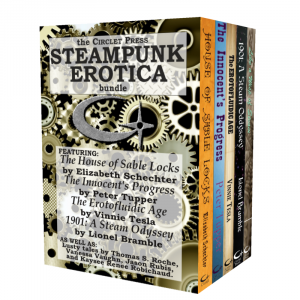 We're trying something new this month with our very first ebook boxed set. And we're going in big with four of our favorite Steampunk novels all for $5.99–the normal price for one of these books–with the short-story collection that started our Steampunk obsession thrown in as a bonus.
We're including the award-winning House of Sable Locks by Elizabeth Schechter, the critically acclaimed Innocent's Progress by Peter Tupper, the bizarre and witty Erotofludic Age by Vinnie Tesla, and the exuberantly swashbuckling 1901: A Steam Odyssey by Lionel Bramble; along with Like a Wisp of Steam, edited by J. Blackmore.
But this bundle won't be around forever–it goes on sale on November 15th, and will only be available until February 15th.
Preorders are open now at Amazon and Smashwords. And to get the word out, we're giving away five copies free for nothing! Sign up to win below:
a Rafflecopter giveaway