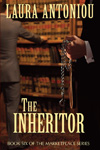 $9.99 ebook
ISBN 978-1-61390-126-7
$27.95 paperback
ISBN 9781613901274
250,550 words; 620 pages!
The long-awaited sixth installment of Laura Antoniou's Marketplace series!
Also available from: Amazon
• Smashwords • Barnes & Noble Nook • All Romance eBooks • Kobo • and more!
When last we saw Chris Parker, he had been bought by master trainer Tetsuo Sakai and was blissfully ensconced in Japan under Tetsuo's wonderfully sadistic boot. And here we join Robin Cassidy, now contentedly serving a slave contract for a rich Chicago businessman. But the Marketplace is shaken when a new Trainer of Trainers must be anointed and the resulting machinations and clashing loyalties threaten to tear their world apart. Everyone has a stake in the outcome and Chris Parker is about to find out who is with him and who is against him.
Richly told, interconnecting threads of Parker's previously unseen past with his complicated present, The Inheritor also weaves in the narratives of many favorite Marketplace characters, including Robin, Ken Mandarin, Ron Avidon, and features appearances by many more, including Jiro, Rachel, Michael, and Grendel.
Laura Antoniou is the award-winning author of The Killer Wore Leather and the long-running series that began in 1993 with The Marketplace.
Enjoy a delicious excerpt from THE INHERITOR:
Continue reading New book: Laura Antoniou's THE INHERITOR (Book 6 of The Marketplace) →