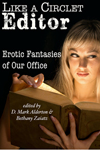 Ebook ISBN: 978-1-61390-147-2
Ebook Price: $3.99
Print ISBN: 978-1-61390-148-9
Print Price: $9.95
The ebook edition of this title is also available at: Amazon.com, Barnes & Noble, Smashwords, Kobo, AllRomanceEbooks, and the iBookstore and Google Play store.
You can also order the print edition directly from Createspace!
Fans of Circlet Press know what it's like working here… or think they do. It's one big phantasmagorical orgy with vampires and shapeshifters and ice demons and androids and humans all engaging in a never-ending stream of combinations. Always willing,always fun, always hot. The reality of creating our stories may be different, but you don't want to hear about that, so we've created a collection that feeds the fantasy. Here's where our ideas come from if we were actually living inside of a Circlet Press story and now you get to join in.
Here people have to live out the adventures before they can write about them, whether supernatural or science fiction, and with that special kick that you've come to expect from Circlet. After reading Like a Circlet Editor, you'll never read you other Circlet books in the same way. What if they were really true, too?
Includes stories from D. Mark Alderton, J.H. Peregrine, Annabeth Leong, Alex Picchetti & H.B. Kurtzwilde, Elizabeth Schechter, and Kit Harding.
For a hot excerpt, keep reading below!
Continue reading New Book! Like A Circlet Editor: Erotic Fantasies of Our Office →