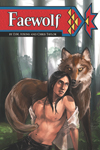 Each day this week we're running a free excerpt from one of the volumes in our ginormous Gay Romance Bundle. Today's is from D. M.  Atkins and Chris Tayor's Faewolf.
This is Chapter Nine, where Kiya White Cloud, a University of Santa Cruz undergrad, and Brian Fenwick, his biology TA , finally get together.  What Kiya doesn't realize is that Brian, unlike most biology grad students, is a shapeshifter–and more wolf than man.
Chapter Nine
Kiya was surprised at how far from campus Brian drove. Most students kept close to the bus lines, on the west side or downtown when they could. This was a bit remote. It felt like being alone in the wilderness even if it was only a few miles from campus. How could Brian live like this?
Brian pulled up beside his cabin, a shed-like structure nestled among the redwoods, and turned off the truck. "Let me get the door," he warned as he got out.
Kiya did as he was told, waiting for Brian to walk around the truck and open the door. Kiya really thought that he could have done it himself, but he liked being taken care of.