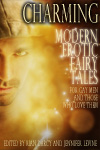 The finalists for the 28th Lambda Literary Awards have been announced, and maintaining Circlet Press's four-year consecutive run with at least one finalist every year is the anthology of erotic fairy tale retellings CHARMING: Modern Erotic Fairy Tales (For Gay Men And Those Who Love Them), edited by Rian Darcy and Jennifer Levine.
To celebrate making the finalists' list, Charming's ebook edition is on sale from Circlet.com for only $1.99 if you enter the coupon code LAMMY2016 upon checkout! Purchase the book in PDF, Kindle, or epub format right here on Circlet.com (or for an extra 99 cents buy all three formats).
You can also buy the paperback edition from CreateSpace and use the coupon code QQLA26QJ to get it for only $9.99! (Regular price $12.95!) Click here!
The ebook edition of this title is also available (at full price) at: Amazon.com, Barnes & Noble, Smashwords, Kobo, AllRomanceEbooks, and the iBookstore and Google Play store.
Included in this anthology:
"Catch and Release" by Clio Yue
"Enchanted" by Shanna Germain
"Nightingale" by Evey Brett
"A Day in the Life of a Magic Prince" by NCN
"The Big Bad Wolf" by Alexander Wilder
"The Flame in the Desert" by Sasha Payne
"The Prince and the Frog" by Hero Freyr
"White Horse Beach" by Sarah Ellis
Editor Rian Darcy is also the author of the gay erotic cyberpunk mystery/romance SIMULACRUM, and co-editor Jennifer Levine is the editor of dozens of erotica anthologies for Circlet including Nights of the Round Table: Arthurian Erotica and Silent Shadows Come: Erotic Tales of Ninjas.
Charming is the tenth Circlet Press title to make finalist for a Lammy award. Past finalists include:
1998: The Drag Queen of Elfland by Lawrence Schimel (sf/fantasy)
2002: Best Bisexual Erotica Vol 2 edited by Bill Brent and Carol Queen (bi/trans book)
2003: Wired Hard 3: Even More Erotica for a Gay Universe edited by Cecilia Tan (sf/f)
2006: Master Han's Daughter by Midori (lesbian erotica)
2013: One Saved to the Sea by Catt Kingsgrave (lesbian erotica)
2013: Chocolatiers of the High Winds by H.B. Kurtzwilde (sf/fantasy)
2014: The Stars Change by Mary Anne Mohanraj (sf/fantasy)
2015: Best Bi Short Stories edited by Sheela Lambert (bisexual fiction)
2015: Incubus Tales by Hushicho (gay erotica)
2015: Leather Spirit Stallion by Raven Kaldera (gay erotica)
To see all the finalists in this year's Lambda Literary Awards, visit LambdaLiterary.org, Congratulations to all!