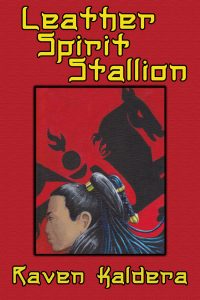 Every day this week we're posting a long, sexy excerpt from one of the books in the Gay Romance Bundle. Today's is Leather Spirit Stallion by Raven Kaldera.
This is the first chapter, in which we meet Erlik, a Mongolian-tradition shaman, college student and gay leather top, and get to see him pursue his social life.
CHAPTER 1
The boots, as he pulled them on, were new to his feet, although not new themselves. They were military tanker's boots, black leather with buckles. He had scammed them off of Chaz, who had money and was continually buying fancy pieces of black leather and then getting bored with them. The pants, too, were black leather, found in the local Salvation Army a year ago. The belt had been his older brother's until he had stolen it, just before leaving his parents' house forever.
Aside from that, the rest of his clothing didn't resemble anything that someone might wear to a fetish bar. Over a simple sleeveless black T-shirt he shrugged on and tied his black silk del, the traditional Mongolian coat with fur trim. He had stitched it himself, scavenging the fur from an abandoned coat in the trash, learning to embroider the traditional patterns onto it. Unlike his ceremonial del, which was a feast of bright colors, the black del was more demure with embroidery only in indigo and white. The running horse tracked across his sleeves, his spirit animal in silver-gray. The broad silk sash of cobalt blue went around his waist and tied, then he buckled the leather belt around it. He picked up his sheath knife and hesitated for a moment, then tucked it into his boot. Wearing it at the waist was more traditional, but discreet was better; he didn't want it confiscated by a bouncer. He picked up his handmade horsehair whip and fastened that to his belt instead. Read that message, boys.
Continue reading Gay Romance Bundle Teasers #4: Leather Spirit Stallion →