The Velderet by Cecilia Tan, read by Nobilis Reed
on Audible | on Amazon| on iTunes | read an excerpt
Roommates Kobi and Merin have a problem. They live in a carefree, utopian society where oppression and inequality have been eradicated, everyone has a say in the government, and everyone has plenty of food, clothing, and sex. The problem? Kobi and Merin harbor secret taboo desires, fantasizing about slavery and sexual domination.
Through their computer networks they seek out others who share their desires. But when their society opens diplomacy and trade with a war-like, domineering culture, suppressed desires burst forth. Is it the end of the world as they know it?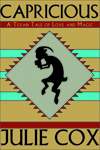 Capricious by Julie Cox, read by Nobilis Reed
on Audible | on Amazon| on iTunes | read an excerpt
Welcome to Fox Pass, Texas, a small community where the people are friendly and the mythical creatures aren't so mythical after all.
In Julie Cox's Capricious: A Texan Tale of Love and Magic, satyr and Fox Pass native Luke is settled into a comfortable routine of drinking beer with his best friend, cultivating his small plot of land, recharging the raw sexual energy that fuels his magic, and willfully ignoring his feelings for his friend Sally. But Luke's daily life is thrown into disarray when he becomes the target of mysterious enemies who won't hesitate to hurt his fellow myth-folk to get to him. With the help of his friends, and some earthshaking satyr magic, Luke works to protect his town – and sort out his feelings for Sally – before it's too late.
The Ontological Engine by Vinnie Tesla, read by Vinnie Tesla
on Audible | on Amazon| on iTunes | read an excerpt
Daedalus Tesla just wants to be left to his scientific research. The problem is, his Ontological Engine can only be powered by human beings in a state of extreme sexual excitement. And once you have one or two of those strapped down in your laboratory, people do start to talk.
To make matters worse, the ontological forces he is studying are strange and unpredictable. And the line between experimenter and experiment may blur quite unexpectedly.
The Ontological Engine is a skewed and sexy steampunk story like nothing you have ever heard before.