Monthly Archives: March 2016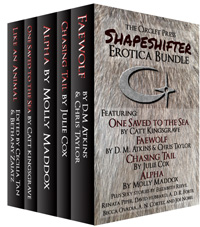 $5.99 (!)
ISBN: 9781613901601
226,830 words (!!!)
This bundle is also available at  Amazon, Smashwords, Kobo, and Barnes & Noble.
Five books for the price of one! Available for a limited time, Circlet Press's hottest shapeshifter stories all in one bundle. A lesbian selkie in the Orkney Islands. A gay Santa Cruz student in love with a werewolf. An Arkansas town of shapeshifters. A human and a wolfman fighting for survival in the ruins of NYC. And more. The wild heart of lust and longing all in one package!
Follow the links for hot excerpts from all four novels:
ONE SAVED TO THE SEA by Catt Kingsgrave:
From the lighthouse where she was raised, Mairead has watched the selkie girls secretly since she was small. She longs to leave the home that has never really been hers and join them. She could never have guessed that a limping selkie girl has been watching her too, nor what wildness the shapeshifter would draw her into.
"This book gripped me and wouldn't let me go until I finished it. There's deep, subtle poetry in it, and a romance that is satisfying but not easy. " –Annabeth Leong
FAEWOLF by D. M. Atkins and Chris Taylor
Faewolves, like werewolves, can walk among men. What happens when Kiya White Cloud, a young gay college student in Santa Cruz, wants one of these men enough to risk his heart–and his life?
"The romance scenes in this book, and let me say there is a lot of sexin' going on, are written really well – they are verra steamy." –smexybooks.com
CHASING TAIL by Julie Cox
When the shapeshifter community of northern Arkansas is rocked by a string of disappearances, individuals aren't the only ones in danger. The entire community's way of life is in jeopardy, but this new threat brings some shifters together in ways they never expected.
"A sweet, lovely, and hot set of stories, with a compelling setting, and a distinctive regional voice." –Vinnie Tesla
ALPHA by Molly Maddox
Janey Hyde is fighting to keep her people alive in a Manhattan ravaged by zombies. Seamus, the leader of a werewolf pack also on the island is doing the same. Will an alliance between them be the salvation of their tribes? Or is the intense attraction they feel for each other going to be their downfall?
"I loved all the action scenes…a great heroine…the sex scenes were hot." –lovesromances.blogspot.com
Plus LIKE AN ANIMAL, featuring werewolf stories by Elizabeth Reeve, Renata Piper, Joe Nobel, A. N. Cortez, A. D. R. Forte, Becca Ovadia, and David Hubbard.
This bundle will only be available until Summer. Indulge your inner e-book reading beast, and grab it now!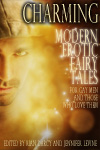 The finalists for the 28th Lambda Literary Awards have been announced, and maintaining Circlet Press's four-year consecutive run with at least one finalist every year is the anthology of erotic fairy tale retellings CHARMING: Modern Erotic Fairy Tales (For Gay Men And Those Who Love Them), edited by Rian Darcy and Jennifer Levine.
To celebrate making the finalists' list, Charming's ebook edition is on sale from Circlet.com for only $1.99 if you enter the coupon code LAMMY2016 upon checkout! Purchase the book in PDF, Kindle, or epub format right here on Circlet.com (or for an extra 99 cents buy all three formats).
You can also buy the paperback edition from CreateSpace and use the coupon code QQLA26QJ to get it for only $9.99! (Regular price $12.95!) Click here!
The ebook edition of this title is also available (at full price) at: Amazon.com, Barnes & Noble, Smashwords, Kobo, AllRomanceEbooks, and the iBookstore and Google Play store.
Included in this anthology:
"Catch and Release" by Clio Yue
"Enchanted" by Shanna Germain
"Nightingale" by Evey Brett
"A Day in the Life of a Magic Prince" by NCN
"The Big Bad Wolf" by Alexander Wilder
"The Flame in the Desert" by Sasha Payne
"The Prince and the Frog" by Hero Freyr
"White Horse Beach" by Sarah Ellis
Editor Rian Darcy is also the author of the gay erotic cyberpunk mystery/romance SIMULACRUM, and co-editor Jennifer Levine is the editor of dozens of erotica anthologies for Circlet including Nights of the Round Table: Arthurian Erotica and Silent Shadows Come: Erotic Tales of Ninjas.
Charming is the tenth Circlet Press title to make finalist for a Lammy award. Past finalists include:
1998: The Drag Queen of Elfland by Lawrence Schimel (sf/fantasy)
2002: Best Bisexual Erotica Vol 2 edited by Bill Brent and Carol Queen (bi/trans book)
2003: Wired Hard 3: Even More Erotica for a Gay Universe edited by Cecilia Tan (sf/f)
2006: Master Han's Daughter by Midori (lesbian erotica)
2013: One Saved to the Sea by Catt Kingsgrave (lesbian erotica)
2013: Chocolatiers of the High Winds by H.B. Kurtzwilde (sf/fantasy)
2014: The Stars Change by Mary Anne Mohanraj (sf/fantasy)
2015: Best Bi Short Stories edited by Sheela Lambert (bisexual fiction)
2015: Incubus Tales by Hushicho (gay erotica)
2015: Leather Spirit Stallion by Raven Kaldera (gay erotica)
To see all the finalists in this year's Lambda Literary Awards, visit LambdaLiterary.org, Congratulations to all!